Times Report Crookston Times
March 2, 2022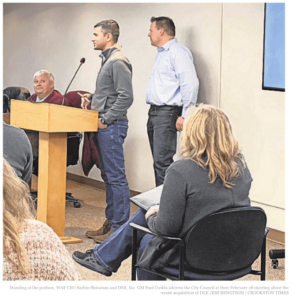 Wisconsin Aluminum Foundry (WAF), a leader in aluminum and copper–based alloy castings, recently announced they have acquired the assets of castings manufacturer DEE, Inc. in Crookston. Small Business Development Center consultant Christine Anderson and Crookston Housing & Economic Development Authority director Robert Barnes, along with WAF CEO Sachin Shivaram and DEE, Inc. Vice President/ General Manager Paul Cwikla, shared the news with the City Council at their February 28 meeting.
The acquisition will expand WAF's current operations, increase capacity and will reportedly add 30 new jobs at the Crookston location as production grows.
"We are thrilled to welcome DEE into the WAF family," said Shivaram. "DEE has a dedicated and skilled workforce that operates much of the same equipment as our Manitowoc plant, making it a natural extension of our business as we look to meet the growth in our customers' demand for aluminum castings. It also creates new opportunities as manufacturing continues to evolve, so we envision significant growth at DEE as well as Wisconsin Aluminum Foundry."
"This is a wonderful opportunity for the team, the community and for WAF," said Cwikla, who will lead the DEE facility. "We recognize the experience and expertise WAF brings to the table and share the value they place on employees. It is a great match and we're excited about our future together."
With 72 employees, DEE, Inc. is among the largest employers in Crookston and has played a pivotal role in the community.
"DEE has been a leading company locally, and this acquisition creates new opportunities that will enhance and strengthen our local workforce," said Christine Anderson, business consultant for Crookston's Small Business Development Center. "WAF has an excellent reputation, is committed to success and we're excited for what this means to Crookston and Northwest Minnesota."
WAF's latest acquisition comes less than a year after it purchased Wabash Castings in Wabash, Indiana. Under WAF's ownership, Wabash Castings has doubled revenue and increased employment by 50%.
Founded in 1909, WAF is a family– owned company, serving a wide variety of industries by providing high–quality aluminum and copper–based alloy castings. Its Manitowoc facilities, including its foundry and machine shop divisions, employ more than 450 team members, with Wabash Castings, LLC employing nearly 150 team members. For more information, visit www.wafco.com